Hallo und ein sonniges Guten Morgen!
Am Freitag fand ja mein monatlicher Stampin' Up! Workshop bei mir statt und meine Teilnehmerinnen haben auch kleine Gästegoodies bekommen. Dieses Mal habe ich eine kleine rechteckige Box angefertigt in die genau 3 Küsschen passen. Verwendet habe ich das wunderschöne neue Designerpapier "Bezaubernd Bunt" und passend dazu Farbkarton in den Farben Limette, Zitronenparfait, Sommerbeere, Babyrosa und Marineblau. Die Herzen habe ich mit einer der Stanzen aus dem Set "Strahlende Stickeffekte" ausgestanzt (ich liebe dieses Stanzenset!!!) und der Spruch "Danke" ist aus dem Stempelset "Berührende Botschaften". Ich hoffe die Mädls haben sich darüber gefreut!
Last Friday I had my monthly Stampin' Up! workshop and of course, I also made small guest goodies for the attendees. This this I created these little boxes and used the beautiful new designer paper series in combination with several new and already existing cardstock colors. I hope the ladies liked them filled with 3 chocolate kisses.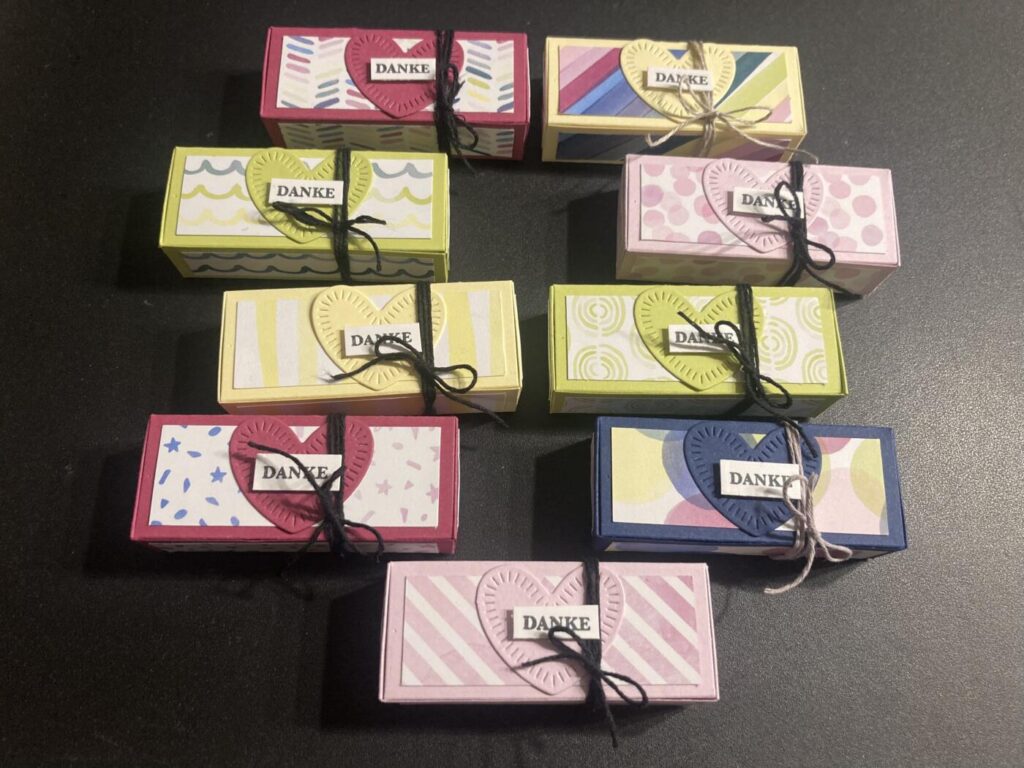 Das ganze Material kann in meinem Stampin' Up! Onlineshop auch bestellt werden – tatjanabreitfeller.stampinup.net!
Genießt den Pfingstssonntag! Bis demnächst, tatjanakreativ